Description
Max Planck said, "Everything is energy."
Mahayana Buddhist Canon teaches "the principles of Polarity & Paradox".
Galileo & Euler found energy resonance phenomenon.
The book adopted over the fifty of that wisdom to clarify our life phenomena by the simple expression, AWARENESS IS THE BEGINNING.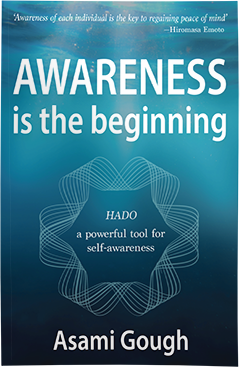 Special offer to the reader!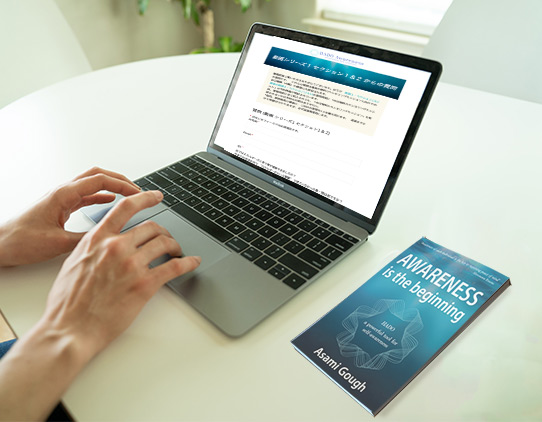 A free e-mail session
You can check if your practice is in a suitable order for the first step of "Self-Reflection" towards the natural occurrence, Meditation. There are some questions to answer before attending the free Email session.
A free 45mins video or phone session
After answering questions for self-awareness, you can apply a free 45mins video or phone session.
Praise for Awareness is the beginning
Asami is a certified Hado Instructor who learned Dr. Masaru Emoto's philosophy and she has written the essence of it in her new book. She is a truth seeker and a lot of important information concerning self-awareness is written in her book. Awareness of each individual is the key to gaining peace of mind, and this book is designed to help you connect with
your true self.

I highly recommend this book to everyone interested in enhancing health and uplifting their mind, especially in Today's stressful climate. Even more for practitioners of healing modalities to keep as an invaluable source of wisdom and a reference guide.

Dr Ranga J Premaratna (PhD)

A must-read textbook is here for anyone considering Meditation. This book enables the reader to discover the logical explanation behind the effect of Meditation. There are delightful guides and invaluable information enabling the reader to see deep inside of themselves, and how to make their life and the world better place. Asami shares substantial knowledge about Self-Reflection gleaned from many of her life experience and training, which is an excellent gift to enable the reader to change their life dramatically
If you live in outside of Australia or Japan
Please use our order form. We will advise you the shipping charge and the payment method.