25/02/2022
Hello Nano Soma friends!
I pray for everyone's safety and happiness during the bad weather and the major events many of you are going through.
There is a couple of good news from Nano Soma in this newsletter. One of them is that Metasomer Topical Gel is our market now.
Please look after your mental and physical health during this difficult time.
______________________________________________________________________________________________________________
The message from Dr Presser.
Next week we will launch the third and final product in Raghu's product family, the Metasomer Telomerase Natural Skin Cream, on the United States store. The Aussie store will shortly follow and the European and UK stores in 60-90 days. Preceding it on these two stores will be the Metasomer Topical Gel​, perhaps in a week or so in Europe and maybe 30 days in the UK.
It has been an objective of mine to share all of Raghu's beautiful products with you, wherever you are, each bringing his magical Metadichol nanoemulsion to us in its unique way:
The NANO SOMA nutritional spray for oral use
The Metasomer Topical Gel​ for promoting topical healing and pain relief
The Metasomer Telomerase Natural Skin Cream for its wonderful healing and rejuvenating effects for the face.
Each product has its place and purpose.
Some people continue to be concerned about our supply levels. We have good supply of the NANO SOMA spray in all of our stores and good supplies of the Metasomer Topical Gel​ in the US and Australia. We do not anticipate future supply issues.
Heather Montgomery recently conducted an excellent interview with Raghu. Heather's deep knowledge of biochemistry and related subjects created a platform for Raghu to be more expansive in his answers than he usually is, providing a deeper insight into the wonders of NANO SOMA and the Metasomer products. The interview is at https://youtu.be/IDhyT1-QdZs.
This week's testimonial:
Dear amazing Richard, Roland, and Raghu (the "Rs"),
I started taking NANO SOMA a few months ago. I was suffering from symptoms of fibromyalgia, caused by what I believe was a long (18 months) case of Epstein-Barr and cytomegalovirus that I got at university. Having just turned 60, I am focusing on my health and well-being and working to feel energetic, fit, and healthy. Over the past year, I was really struggling with fibromyalgia, problems falling asleep, staying asleep, deep body pain (muscle and joints) daily headaches, awaking in the morning with a deep burning sensation in my eyes, heavy and sleepy, and would lie in bed for a few hours wishing to get more sleep but generally unable to. I'd finally get out of bed late morning, have a strong coffee, and have a few good hours of productivity, a gym in-home spin bike session or walk, before getting a bad headache or a deep feeling of exhaustion and then would go to bed late afternoon for a nap, which I would doze for maybe 30 or 40 minutes if at all, but would just lay quietly and hope my headache or migraine or fatigue would clear.
I am now on my 5th bottle of NANO SOMA. I now fall asleep within an hour of bedtime, and although I wake up every few hours, I generally get back to sleep within an hour. I awake early, between 6 and 8 AM instead of 10 AM -12 PM like I used to. I no longer awake with that deep burning in my eyes, even if I just manage 5- or 6-hours sleep…and my body doesn't need hours to get moving and get out of bed each morning. I sit up, have a coffee in bed (thank you dear husband), read the latest on my phone, and then within an hour, I'm up and about. I generally mostly have enough strength and energy for a productive day, and only get back in bed in the afternoon if a migraine or bad headache sets in (not as often as before NANO SOMA). I go to the gym and rowing machine for 45 minutes, spin bike for 10-20, and some machine weights or ride my gym spin bike I have in my "home office" for 30-45 minutes, 4 or 5 days per week. I think the exercise helps with my overall feel-good factor now too.
I had a very bad flu in December with all the typical symptoms. I was so ill; I was just lying in a dark room suffering for a week. I did not think to take NANO SOMA during this time, as I just didn't want anything. But by day 8 it occurred to me it might help. My symptoms were still as bad after a full week, including the fibromyalgia getting intense as well as the giant swollen glands, bad sore throat, difficulty breathing (like fluid in my lungs) bad headache, etc. just all ongoing. I took 5 sprays 3 times across day 8, awoke day 9 breathing much more easily and decided to do 5 sprays every 3 or 4 hours that day. I still wasn't eating and just drank water, apple juice, or tea. And slept and slept some more. I awoke on day 10 so very much better it was amazing. Incrementally it was like a 3- or 4-day improvement.
Another fascinating story I'd like to share is about the first miraculous thing I witnessed with NANO SOMA. My husband got his COVID vaccination, his second one. I began noticing his face broke out in a rash, with very red angry looking bumps in patches in a few different places across his face. I suspected it was a result of the spike protein reaction to the serum, etc. I asked him if I could try the NANO SOMA on his face. (Note: He was not taking it internally very often yet. I gave him a bottle but most days he'd "forget" it was there.) So, I sprayed about 5 half pumps on those rashy-looking areas. And guess what! (Are you sitting down because you're going to be blown away…I was!!!) after that ONE application – the next morning his face was COMPLETELY cleared up! Not a sign of anything but lovely skin. It was truly miraculous to me.
A couple of months later, this came back on his face, but not as bad. I did not have any NANO SOMA in the house and was awaiting my order. When it arrived, he'd had the rash for maybe a week, or 5 days, can't remember…. but it wasn't going away. It looked identical to the one he had a few months earlier, which went away within 12 hours of 5 sprays directly on the face and air-dried, not taken internally. But it showed me that if we'd not intervened with NANO SOMA treatment last time, it probably would have lingered and gotten worse, rather than cleared up. So again, I repeated what I did with the previous rash, but this time it was morning when I sprayed it on, so I did a second application in the evening. And yet again…COMPLETELY GONE the next morning. We now still both use it as instructed by NANO SOMA on the bottle. And if I'm feeling a bit poorly will take it every few hours. But what I also do now, is use the spray externally on any skin issues.
Here are my other positive results I can report using the spray externally. I had what looked like a fungal growth spot on my shin, looking like ringworm but in a spot, not a ring. I used a small amount of spray on it, and it was greatly reduced in 4 days.
I have an issue on the bottoms of my feet with not just hard skin on my heels, but I get these very painful splits in the skin that look like I've been sliced open with the tip of a small knife. They are deep and very painful to walk on until I put on layers of brand-name blister patches. I finally have come to realise that these appear after I use a specific product on my skin after a shower. I looked up the ingredients and believe it is my body responding to one of these toxic chemicals. (I stopped using this product…and I stopped getting these fissures in the heels of my feet…and one day I used a small amount and then reminded myself that I stopped using it due to the suspected reaction and sure enough the next day I got a painful split in the skin…This has gone in the trash by now … But my point is that not only does spraying the NANO SOMA on this painful skin injury close up the fissures and heal them in days but the rough and tough skin on my heals is also gone, replaced with baby soft skin, until I stop using the precious spray externally as I need it internally. But it does work miraculously quickly.
I also had a big toenail that split in half down the middle and finally, half the nail was pulled off while I was in bed…so it was just raw nail bed exposed…the NANO SOMA spray helped noticeably to turn this diseased nailbed that caused the initial split, to heal, and now I have a beautiful healthy big toenail.
I had an irritating start of what looked like a mole and sprayed it till it flattened out and got lighter and faded and was no longer uncomfortable.
So, my friends, those are the testimonials I can share at this point. I'm sure there have been a few more random things that this miraculous little bottle of magic healed on this old body of mine, both inside and out….
I just wanted to share.
Also, I want to give a MASSIVE, HEARTFELT hug of appreciation and gratitude to Richard and Roland. They both have personally corresponded with me and answered my queries. You and NANO SOMA are a GODSEND for humanity. Thank you both and of course, Dr. Raghu. The planet and humanity are so very blessed for your determination and hard work and persistence to get your product out, production issues sorted in not just USA, but Europe, Australia, and now the UK (thank you, thank you, thank you.
Love and Light.
Energies of Healing Humanity ONE body at a time.
Energies of Peace on Earth.
Energies of Love and Divine Light for Nova Gaia…EARTH 2.O.
ENERGIES of pure heartfelt gratitude and soul felt appreciation for your work helping beautiful humans. I hope you understand the Joy people feel as each one suffers less and less in the physical body thanks to your effort, your work, your pure good energies, and pure positive intent to manifest healing at an affordable price and accessibility to as many people as you can.
So, from my heart to yours: Love and Light and endless gratitude.
Pamela L.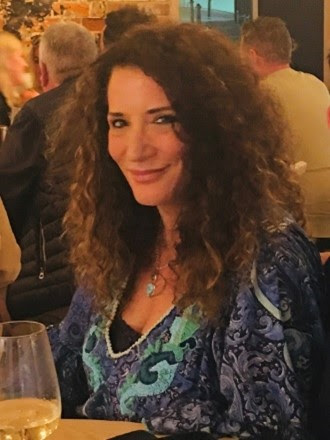 Here I am on my 60th birthday.
Please understand that neither I nor any of the companies supplying NANO SOMA or Metasomer nor the companies' directors, shareholders nor employees are medical doctors and do not provide medical advice. For medical advice, please consult your medical practitioner. Further, these products are not intended to diagnose, treat, cure or prevent any disease.
__________________________________________________________________________________________________________
To order your NANO SOMA and your Metasomer Topical Gel, please click HERE.
Love & Gratitude  光愛感謝